THE INSIDE EDGE ON CONNECTING TECHNOLOGY SOLUTIONS
StarTech.com / TB3DOCK2DPPD
Dual 4K 60Hz Monitor Thunderbolt 3 Dock with 6x USB 3.0 Ports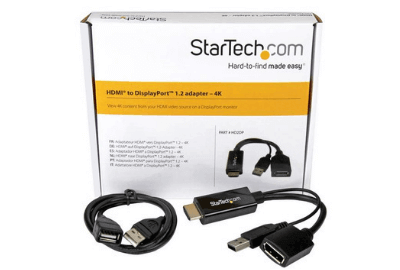 HDMI to DisplayPort Adapter – 4K 30Hz ( USB-powered adapter )
StarTech.com / PEXUSB3S4V
4 Port PCI Express PCIe SuperSpeed USB 3.0 Controller Card Adapter
Connect your Thunderbolt™ devices with reduced clutter with StarTech.com
USB 3.0 / eSATA 6-Bay Hard Drive Duplicator Dock / SSD Cloner and Eraser
3000+ products supporting over 200 different technologies
USB-C · Thunderbolt 3 · DisplayPort · HDMI · HDBaseT · SFP · RJ-45 · SATA · Bluetooth · Apple Lightning
Universal Docking Stations
Display Mounts & Ergonomics
Interested in StarTech .com products ?
StarTech.com was established in 1985 by Paul Seed and Ken Kalopsis. Paul and Ken met while going to the University of Western Ontario, in London, Ontario in the mid eighties. Initially known as StarTech Computer Accessories, the organization had humble beginnings as a "Visa Card" established activity, fabricating items, for example, PC dust covers in the storm cellar of a house. You can use the products with Confidence as they are user friendly and are of Top Quality.
We are Authorized Distributor, Dealer and Reseller of StarTech.com products in India since 2007. We are the only authorised distributor of StarTech.com products in India. We are supplying the products nationwide. Fastest Delivery, Best After Sales Support , Prompt Response, Quality Service, These are the four names by which people knew us in this Industry.  If you are looking for a solution, Our Experts are ready to help and Guide you with the solution.